Learn more About Page Middle School
Page Middle School, built in 1989, was designed by staff with the needs and wants of parents, students, and teachers in mind. We are located on 101 El Mirage and currently serve approximately 600 students. Our goals are to provide each student with the following elements essential to their continuing success:
Conviction that learning is a lifelong skill
Maximum academic achievement
Appreciation of the arts
Vocational and career preparation
Respect for self and others
Appreciation of human relations
Performance as responsible citizens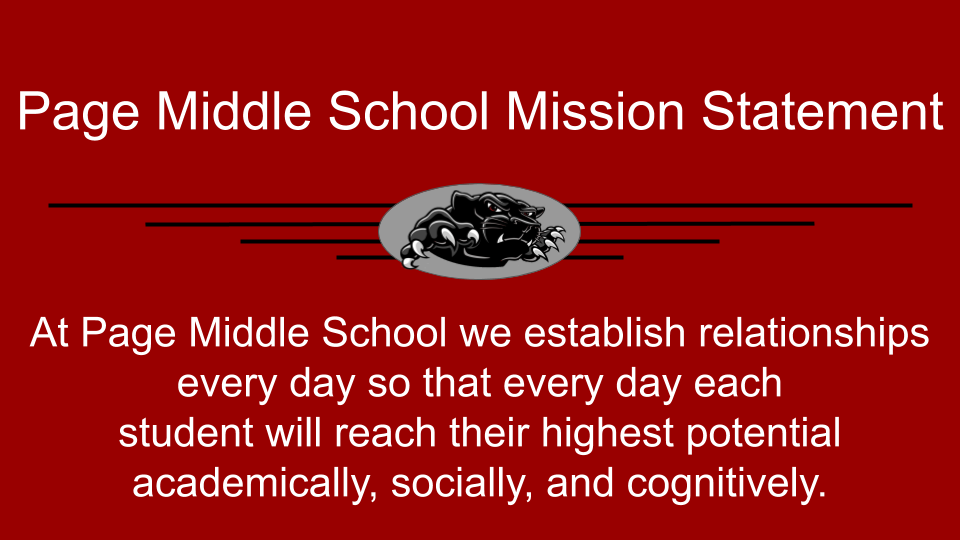 Making all of our school goals possible are our dedicated administrators, teachers, and support staff. If you need to contact any of our teachers or administrators, you can e-mail them using the first initial and last name of the person, followed by @pageud.k12.az.us, or click on their names below.
The staff contact phone number is 928-608-extension listed
Alyssa Covington Principal acovington@pageud.org
Kevin Anderson Assistant Principal kanderson@pageud.org
Michael Barnes Dean of Students mbarnes@pageud.org
Camille Boone Admin Secretary cboone@pageud.org
Brown, Lou Athletic Secretary lbrown@pageud.org
Brown, Wyonne Cafeteria Manager wbrown@pageud.org
Clark, Nikaysa Counselor nclark@pageud.org
Coleman, Clarisa Parapro ccoleman@pageud.org
Gonzalez, Marjorie Parapro mgonzalez@pageud.org
Hosteenez, Vera Parapro vhosteenez@pageud.org
Hudson, Kalventina Nurse khudson@pageud.org
Mountain, Daisy Parapro dmountain@pageud.org
Richardson, Dakota Boys PE Parapro drichardson@pageud.org
Sellers, Tamantha Parapro tsellers@pageud.org
Smith, Lisa ISS lsmith@pageud.org
Stewart, Jeremiah Counselor jstewart@pageud.org
Stropshire, Stacy SAT sstropshire@pageud.org
Tresh, Bill Lead Custodian btresh@pageud.org
Watson, Sharon SSS Director swatson@pageud.org
Aliboga, Rosalina 7th Grade Science raliboga@pageud.org
Apura, LeeAnn 6th Grade ELA lapura@pageud.org
Boldin, Denise 8th Grade Math dboldin@pageud.org
Bradley, Robin Art Teacher rbradley@pageud.org
Camagos, Edrose 7th, 8th Grade Algebra ecmagos@pageud.org
Chio, Chris Maria 6th Grade SPED chchio@pageud.org
Christiansen, Glenna Computer Teacher gchristiansen@pageud.org
Codner-Gayle, Kimberly 8th ELA kcodnergayle@pageud.org
DeHonor, Anne Margaret Pre-Alg 8th, Alebra amdehonor@pageud.org
Fontanilla, Kathleen 8th Grade Science kfontanilla@pageud.org
Guanco, Sharmin English sguanco@pageud.org
Hanson, Steph Resource 8 shanson@pageud.org
Hayes, April FLS ahayes@pageud.org
Haynie, Mark 7th Grade Language Arts mhaynie@pageud.org
Larenio, Mary Jane 6th Grade Math mjlarenio@pageud.org
Martin, Timothy 6th Grade Science tmartin@pageud.org
Moore, Alex Band Director amoore@pageud.org
Onate, Vincent Resource 7 vonate@pageud.org
Prather, Jonathon 7th Grade Soc. Studies jprather@pageud.org
Quimque, Jackielou 7th, 8th Grade Soc. Stud jquimque@pageud.org
Santos, Bernard 6th Grade Soc. Studies bsantos@pageud.org
Sherman, Barry 7th, 8th Grade Soc. Stud bsherman@pageud.org
Tarket, Kendra 8th Social Studies ktarket@pageud.org
Tresh, Natasha 6th, 7th Grade Math ntresh@pageud.org
Williams, Kimberlee Navajo Language kwilliams@pageud.org

Library media center hours:

7:30 a.m.-4:00 p.m.
(M, T, Th, F)

9:30 a.m.-4:00 p.m.
(Wednesdays)

Activity Bus Times:

4:30 p.m. and 6:00 p.m.
(Monday-Thursday only)