Learn more About Page Middle School
Page Middle School, built in 1989, was designed by staff with the needs and wants of parents, students, and teachers in mind. We are located on 101 El Mirage and currently serve approximately 600 students. Our goals are to provide each student with the following elements essential to their continuing success:

Conviction that learning is a lifelong skill

Maximum academic achievement

Appreciation of the arts

Vocational and career preparation

Respect for self and others

Appreciation of human relations

Performance as responsible citizens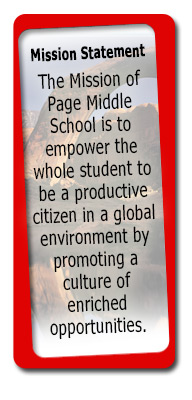 Making all of our school goals possible are our dedicated administrators, teachers, and support staff. If you need to contact any of our teachers or administrators, you can e-mail them using the first initial and last name of the person, followed by @pageud.k12.az.us, or click on their names below.
Ray Webb
Principal
Amanda Griffith
Counselor
Stephanie Hansen
Assistant Principal
Robert Spelich
Counselor
Lori Wilson
Administrative Assistant

Kevin Anderson
Social Studies
Bob Bullard
Math
Justine Carryer
Math
Mark Haynie
Language Arts
Ann King
Language Arts
Tawny Lund
Math
Jose Martinez
Band
Lindsey Norte
Science
Teresa Robbins
CTE/Tech/Leadership
Alan Thoms
Physical Education
Joanne Yazzie-Pioche
Social Studies
Carlos Begay
Navajo Language
Ann Cambridge
Social Studies
Pam Egan
Science
Mary Hesse
Orchestra
Brianna Kowalski
Reading/Writing
Kathleen Manz
Computer/Tech Rep
Timothy Miles
Psychologist
Jonathan Prather
Social Studies
Kristi Schmitter
Intervention Specialist
Angie Tilker
P.E.
Denise Boldin
Math
Norman Cambridge
Language Arts
Lino Footracer
Science
Jennifer Johnson
Drama

Erin Lively
Intervention Specialist
Tim Martin
Science
Lynda Nolan
Choir
Coreen Rankin
Resource Teacher
Mary Stahl
Instructional Facilitator
Susan Wilson
Art
Lou Brown
Athletics Secretary/Receptionist
Tina Chevalier
Cafeteria Manager
Chuck Manz
ISS
Tonya Secody
Nurse
Teresa Budd
Librarian
Dionna Dempsey
Registrar
Steve Nolen
Lead Custodian
Irene Whitekiller
Paraprofessional
Teresa Budd
21st Century Coordinator
Effie Grey
Custodian
Heather Saavedra
Attendance
Library media center hours:

7:30 a.m.-4:00 p.m.
(M, T, Th, F)

9:30 a.m.-4:00 p.m.
(Wednesdays)

Activity Bus Times:

4:30 p.m. and 6:00 p.m.
(Monday-Thursday only)